PERFORMANCE & INSTALLATION
Flawed Product
Site-specific performance
2019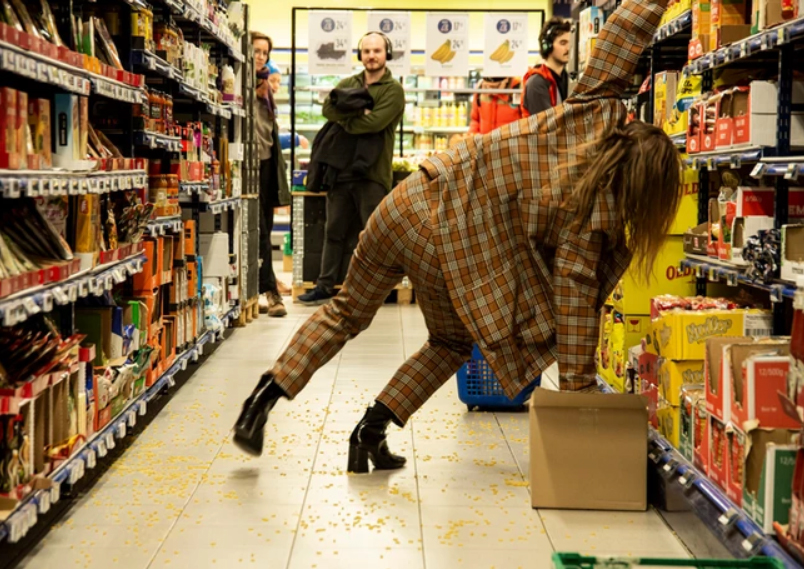 Is there a place in our society for human flaws?
And can we accept ourselves and each other as flawed products?
In between aisles, groceries and colourful advertising posters we meet customers and employees. A mosaic of stories; people in different crisis that become a community - a choir. Songs of complaints and streams of thoughts are heard and shopping carts are filled. The grocery store - like the community - offers endless options. Customers try to make the right choice while navigating products and flawed products.
Flawed Product is a site-specific performance in a grocery store by LiLi Re (former Liavaag/Lindberg). The performance is played during the opening hours of REMA 1000 stores. The show was first presented in Trondheim, Verdal, Inderøy and Steinkjer and premiered in October 2019 with the collaboration of Rosendal Teater and Turneteater. Further Flawed Product toured REMA 1000 Supermarkes in Viken, Norway, November 2021 as a guest performance of Østfold Internasjonale Teater. In February 2022 the performance will guest the theatre festival, Vinterlysfestivalen, in Mo i Rana (North-Norway), hosted by Nordland Teater.
Idea: LiLi Re (former Liavaag/Lindberg)
Directed by Ingrid Liavaag
Performed by Oda Aunan, Petra Casale, Silje Lindberg, Cecilie Solberg Knudsrød
Voices: Ingrid Enger Damon, Ibrahim Fazlic, Sara Baban, Jesper Halle, Lærke Grøntved, Nikolai Lieblein Røsæg, Ida Göranson, Øyvind Brandtzæg, Trond Ove Skrødal
Script writer: Ingrid Liavaag
Dramaturg: Siri Løkholm Ramberg
Composer: Martin Rane Bauck
Costume design: Jenny Hilmo Teig
Sound design: Yvonne Stenberg
Graphic design: Ginevra Dondina
​Produced by Silje Lindberg, Rose Marie Akeron on behalf of Liavaag/Lindberg and in collaboration with RemoteControl
Thanks to:
Kristina Kjeldsberg and Line Rosvoll at Dramatikkens Hus (NO) for guidance and support. Guri Glans, Haakon Strøm, Petter Winther, Rose Aker, Ibrahin Fazlic.
Press

"Flawed Product is an original performance that challenges the genre and fulfils its own premises beautifully. It's a solid show. It invites the audience into a fascinating place by letting the unpredictable and dynamic narrative play out intimately but also with a well written distance."
Eline Bjerkan, scenekunst.no
"It's a particularly exciting theatre experience where the audience get to dwell in the discomforting role of peeping tom. A different and challenging theatre performance that succeeds brilliantly in what it sets out to do."
Amund Grimstad
"All walks of life are portrayed with caricatured precision and physicality"
Willy Walder, Norsk Shakespeare Tidsskrift
Supported by

Art Council Norway, FFUK, SPENN and Dramatikkens Hus, Trondelag Fylkeskommune, Rosendal Theatre in Trondheim and Turnéteatret in Trøndelag.