PERFORMANCE & INSTALLATION
Knots
Interdisciplinary performance and video
2021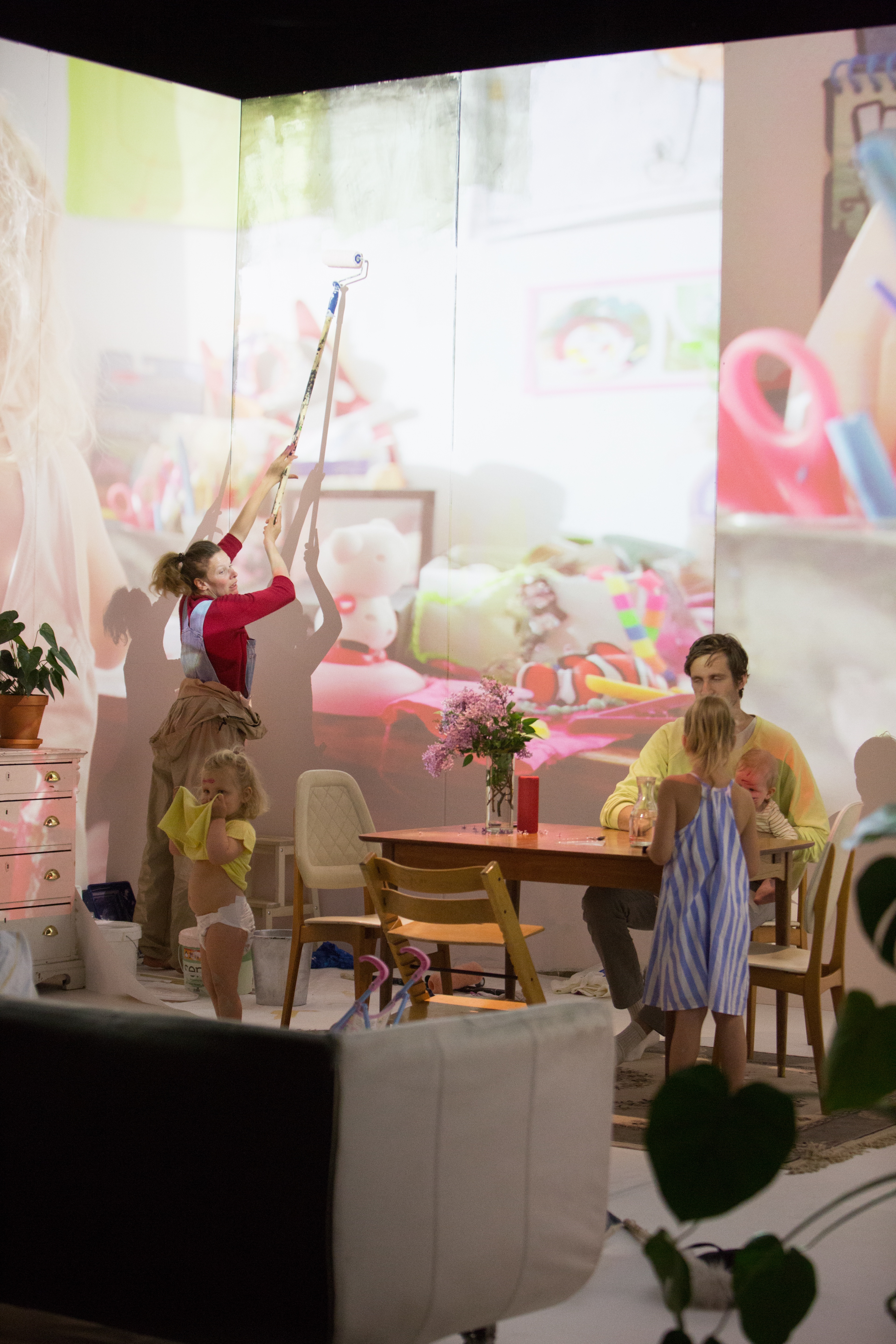 Happy families are all alike;
every unhappy family is unhappy in its own way
-Leo Tolstoy, Anna Karenina-
KNOTS is a hybrid art project where the cinematic language and performance are connected and juxtapositioned. The project investigates methods in how to use techniques from theatre tradition to develop a hybride landscape between performance art and audio visual work. It has come to be a video performance and a video installation where issues related to relationships, gender and family are explored.
Synopsis:
Mother (Charlotte) and father (Jan) have marital problems due to stringent gender roles. Their constant conflicts result in their daughter of four (Nora) being left alone. After an argument in their small city apartment, the family goes to find some air at their countryside-house, outside of Paris. Their issues do not subside. In the midst of the parental conflict, Nora understands that a new baby is on the way. Back in the city she runs away from the suffocating situation. During her walk through the streets of Paris, the four-year-old discovers the city, as well as her own independence.
Based on a real family situation in Paris appears a fictional narrative of a family of three on screen. As a huis clos the family conflict is seen through the child's eyes. On the basis of a real family situation of five members in Oslo the performance stages a familiy together with the cinematic material from Paris.
By juxtaposing and placing the two family situations in a parallell relation in the same space - one in the present and the other one in the past - a gap is created. In this gap the work invites for reflections on what the audience witnesses, on the pain as well as the beauty in family relations and family constallations.
Relationships are recurring themes in Liavaags work, they constitute the framework for her philosophical questions about gender and feminism. Based on sociological aspects of human life, she is plaing with the boundaries between the staged and the real, the private and the public.
Director for film and stage: Ingrid Liavaag
Actors on stage: Cecilie, Andeas, Ingrid, Liv and Åse Solberg Knudsrød
Actors and co authours for the film: Christine, Julien, Paul and Enora Ryndak Marcland
Aurelie, Antoine and Apolline Debombourg, Romy Bousquet, Romain Lemire, Nefeli Papadimouli, Julie Ramage, Delphine Nikita Kubrick, Ranti Bam and Siri Bråtveit
Cinematographers: Ingrid Liavaag and Youssef Chebbi
Assistant director: Siri Bråtveit
Editor: Ingrid Liavaag & Nikolai Lieblein Røsæg
Sound recordist: Siri Bråtveit, Gerland Breistroff, Hector Ulloque
Sound design: Øyvind Planting // Vindlyd
Composer & musician: Natali Abrahamsen Garner
Music mix: Magnus Skavhaug Nergaard
Stage design: Nikolai Lieblein Røsæg
Video mapping and lighting: Oscar Udbye
Producer: Ingrid Liavaag with suport from Malene Oppheim // Amodei Visuals.
Distributor: LiLi Re (former Liavaag/Lindberg)
Supervisors: Jesper Halle, Carle Lange, Saskia Holmkvist, Anne Holtan, Deise Nunes, Tore Vagn Lid
Thanks to:
Alex Verhaest, Silje Lindberg, Petra Casale, Ole Marius Dahl, Jan Vardøen, Mariken Halle, Ingri Enger Damon, Catherine Baÿ, Marte Vold, Aurelie og Antoine Debombourg, Romain Lemire, Nefeli Papadimouli, Julie Ramage, Hector Ulloque, Delphine Nikita Kubrick, Juliette Grandmont, Samer Josef, Francois Tiger.

Supported by

Sørnorsk Filmsenter AS by Ingrid Falkenberg Dokka and Kirsten Bonnén Rask
Oslo National Academy of the Arts - KHiO
Agder county municipality
Cité internationale des arts Paris.
Art Council Norway
Dramatikkens hus